There is no doubt that forests play a vital role in com­bat­ing the impact of cli­mate change, mit­i­gat­ing floods, reg­u­lat­ing weather and enrich­ing bio­di­ver­sity.
However, valu­able forests in the poverty-hit Balochistan province of west­ern Pakistan are shrink­ing, and for­est degra­da­tion has con­tin­ued for decades at an alarm­ing rate.
If timely and con­crete steps are not taken imme­di­ately, the remain­ing forests will dis­ap­pear in the near future.
Spread over 347,190 square kilo­me­ters, form­ing nearly 44 per­cent of the total area of Pakistan, Balochistan shares bor­ders with Afghanistan and Iran.
The esti­mated area of olive forests in the province is only 0.2 per­cent, with 80 per­cent of the forests owned by the local com­mu­ni­ties or indige­nous peo­ple. The remain­der is owned by the gov­ern­ment and man­aged by its forestry depart­ment as state forests.
See Also:
Pakistani Government Launches Agricultural Development Program
The most sig­nif­i­cant sur­viv­ing olive forests are those under the con­trol of the gov­ern­ment.
Balochistan was once known for its rich for­est cover. However, orga­nized crime enti­ties backed by local peo­ple have cut down many nat­ural forests and trans­ported the wood from one area to another.
The mat­ter has been brought to the atten­tion of con­cerned author­i­ties sev­eral times but to no avail.
In the north­ern parts of Balochistan – the Zhob, Sherani and Musakhail dis­tricts – the forests fall in the mon­soon range cli­mat­i­cally.
However, the peo­ple in this region are poor and have no alter­na­tive source for cook­ing fuel or heat in the win­ter. Pastures near the for­est are also the only suit­able places to graze their live­stock. Wild olives are used as fod­der.
While some local com­mu­ni­ties have pledged not to cut the for­est, the eco­nomic pres­sure has left the mar­gin­al­ized com­mu­ni­ties with no other option but to cut and stock the olive wood.
Zhob – which bor­ders Afghanistan and South Waziristan – is an area of lush green moun­tains and expan­sive and diverse forests. However, ille­gal log­ging com­bined with apa­thy from local offi­cials means the wild olive groves are rapidly declin­ing.
Hussain Alam, an activist in Zhob, said law enforce­ment is either absent or belongs to the same tribe, mean­ing they will not inter­fere with ille­gal log­gers to avoid tribal feuds.
"The inhab­i­tants in remote and hilly areas use the olive trees as fire­wood for cook­ing and burn­ing pur­poses as fuel," Alam said. ​"Likewise, they usu­ally feed their cat­tle olive branches and fruit in the win­ter. The lack of avail­abil­ity of gas is one of the con­tribut­ing fac­tors."
Forest and wildlife offi­cial Sultan Lawoon claims that poverty, illit­er­acy and unem­ploy­ment are the main fac­tors that have forced the local peo­ple to cut down the wild olive trees.
"The indige­nous peo­ple not only cut the trees for fuel but also sell the wood in the open mar­ket to meet their needs," he said.
Environmentalists say defor­esta­tion has a tan­gi­bly neg­a­tive impact on the area's nat­ural beauty and the num­ber of endan­gered wild ani­mals and birds.
Deforestation also con­tributes to drought, low rain­fall reten­tion, envi­ron­men­tal pol­lu­tion, ero­sion of fer­tile land and destruc­tion of ecosys­tems and bio­di­ver­sity.
They add that civil soci­ety and orga­ni­za­tions work­ing on the envi­ron­ment and for­est con­ser­va­tion must take prac­ti­cal steps to pro­tect these invalu­able forests.
According to agri­cul­ture and forestry experts, if defor­esta­tion remains unchecked, these forests will become increas­ingly rare in the province. They argue that one solu­tion is to improve local com­mu­ni­ties' eco­nomic sit­u­a­tion by pro­mot­ing olive farm­ing.
Sheikh Khaliq Dad Mandokhail, an assis­tant direc­tor at the local envi­ron­ment depart­ment, said plant­ing olives is one of the best nature-based solu­tions to reduce the risks of cli­mate change.
"If timely and con­crete steps are not taken imme­di­ately, the remain­ing forests will dis­ap­pear in the near future," he said. ​"The Forest Department should be pro­vided with bet­ter mon­i­tor­ing tools, locals should be pro­vided with alter­na­tive fuels like gas and laws regard­ing the for­est cut­ting needs to be changed."
Abdul Qayyum is a res­i­dent of Ghbargei, in Sherani Balochistan, which boasts abun­dant wild olive forests.
He has grafted Spanish and Italian vari­eties with wild olive trees on about five hectares of olive trees in the local nat­ural for­est, which pro­duces between 3,000 and 4,000 liters of olive oil annu­ally.
"The graft­ing mech­a­nism has been uti­lized in the hilly area," he said. ​"During the last har­vest­ing sea­son, I man­aged to earn 1 mil­lion rupees (€4,700) sell­ing olive oil."
Qayyum believes there was no crop bet­ter suited to the region than olives as they are drought-tol­er­ant and usu­ally har­vested in October.
The olives are har­vested from the trees, and the extracted oil is trans­ported to other parts of the coun­try.
According to Forest Department sta­tis­tics, wild olive forests cover 41,000 hectares of the Sherani dis­trict, of which 6,000 hectares are owned by the Forest Department. The local com­mu­nity owns the rest.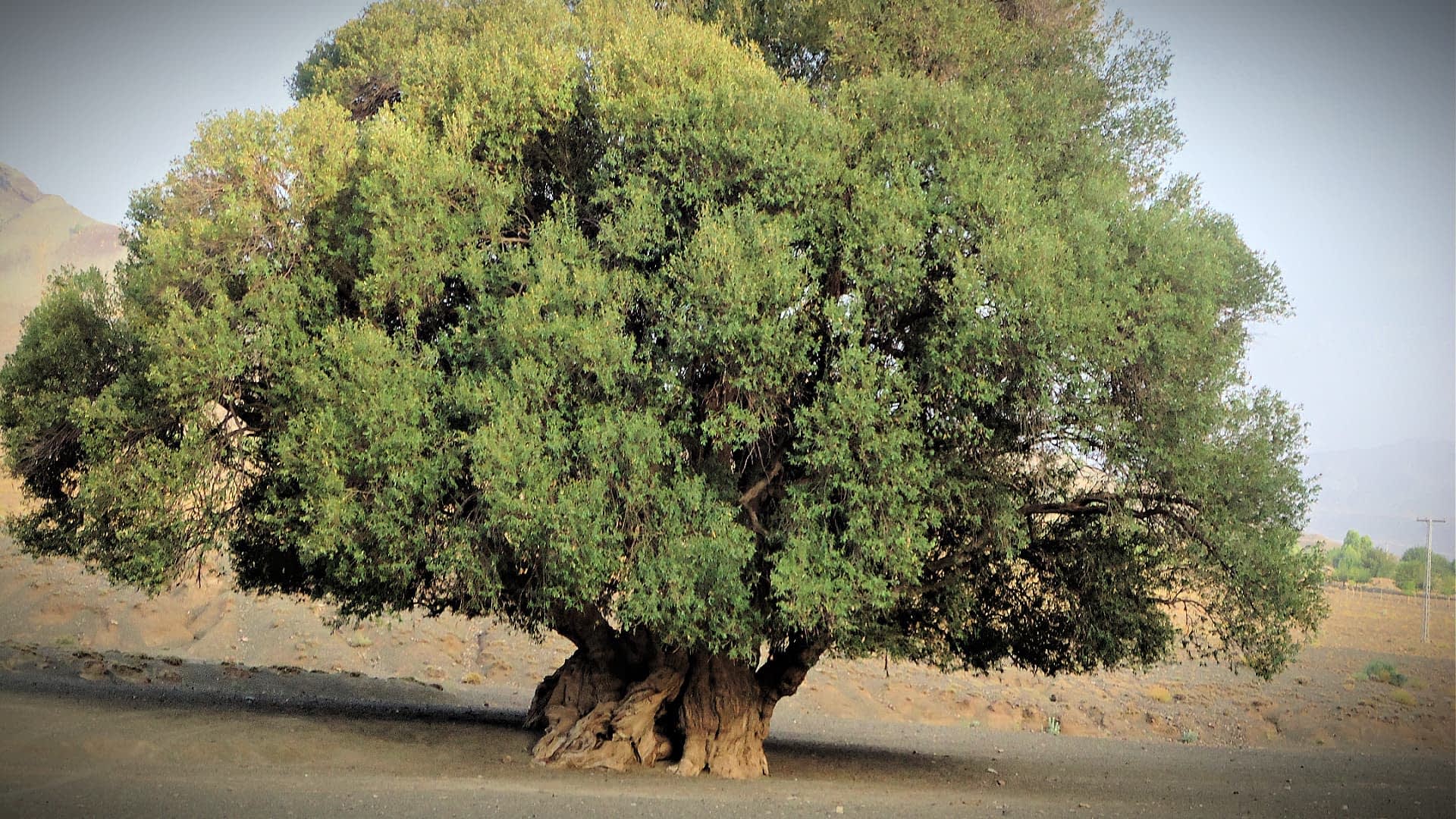 "To irri­gate the olive trees, a drip irri­ga­tion sys­tem has been installed," Qayyum said. ​"Twelve acres of nat­ural olive for­est were grafted with the help of the World Wildlife Fund and the UK-Aid funds, while the drip irri­ga­tion sys­tem has been installed with the help of the United Nations Development Program and the Agriculture and Water Management Department."
Regarding the graft­ing method, Qayyum said the branches of the wild olive trees are care­fully cut, and the Spanish seedling is attached. Then, the two are joined together with the help of clay and fas­tened with plas­tic.
"Grafting is usu­ally done in spring or mon­soon sea­son," he said. ​"There are mil­lions of wild olive trees in Zhob. If graft­ing of Spanish vari­eties is done all over the for­est, it will ulti­mately strengthen the people's socio-eco­nomic con­di­tion and restore the lost beauty of the forests and land­scape."
Najeebullah Mandokhail, an agri­cul­tural offi­cial in charge of olive oil extrac­tion in Balochistan, said that 50,000 olive saplings had been planted in dif­fer­ent parts of Zhob in recent years.
Neighboring Loralai is the largest olive oil pro­ducer in the province. More than one mil­lion olive trees, includ­ing Spanish and Italian vari­eties, have been planted in the region. During the recent har­vest­ing sea­son, Mandokhail claimed that 62,000 lit­ters of oil were pro­duced in the region.
"One mature tree – irre­spec­tive of whether the vari­ety is for olive oil or table olives – can pro­duce 15 to 25 kilo­grams of fruit annu­ally," he said. ​"It takes, on aver­age, 10 kilo­grams of top-qual­ity olives to pro­duce one liter of olive oil."
Lawoon, the Forest Department offi­cial, said the age of the olive trees is between 1,500 to 7,000 years old.
Within three to five years, the olive branches begin to bear fruit. One hun­dred kilo­grams of wild olives yield 10 liters of oil, while one hun­dred kilo­grams of olives from grafted trees yield 22 to 28 liters of olive oil. There are 10 to 12 dif­fer­ent olive vari­eties suit­able for the cli­mate of this region.
Officials and farm­ers in the South Asian county also see plenty of oppor­tu­nity for olive oil pro­duc­tion.
Pakistan, which spends 245 bil­lion rupees (€1.16 bil­lion) on import­ing edi­ble oils yearly, has 3.17 mil­lion hectares of poten­tial area for olive farm­ing. This would allow farm­ers to pro­duce olive oil for domes­tic con­sump­tion and exports.
The coun­try recently became the 19th mem­ber of the International Oil Council (IOC). Officials in the sec­tor say Pakistan has a pro­duc­tion poten­tial of 1,400 tons of olive oil annu­ally based on cur­rent plan­ta­tions.
In June 2022, Italy announced it would invest in devel­op­ing olive cul­ti­va­tion and tech­ni­cal exper­tise in the two-year ​'Olive Culture' project worth €1.5 mil­lion.
Italy had pre­vi­ously invested in Pakistani olive grow­ing oper­a­tions through the tech­ni­cal sup­port of the Italian Agency for Development Cooperation in Pakistan.
There are already plans to expand olive pro­duc­tion in Pakistan, with 3.6 mil­lion trees cov­er­ing 12,500 hectares already planted and enter­ing matur­ing and plans to plant 10 mil­lion more on an addi­tional 30,400 hectares.
Balochistan is con­sid­ered a highly promis­ing province for olive tree cul­ti­va­tion and will boast more than 500,000 trees on 3,800 hectares by 2024. This alone is expected to gen­er­ate 1.16 bil­lion rupees (€5.5 mil­lion) by 2027.
---